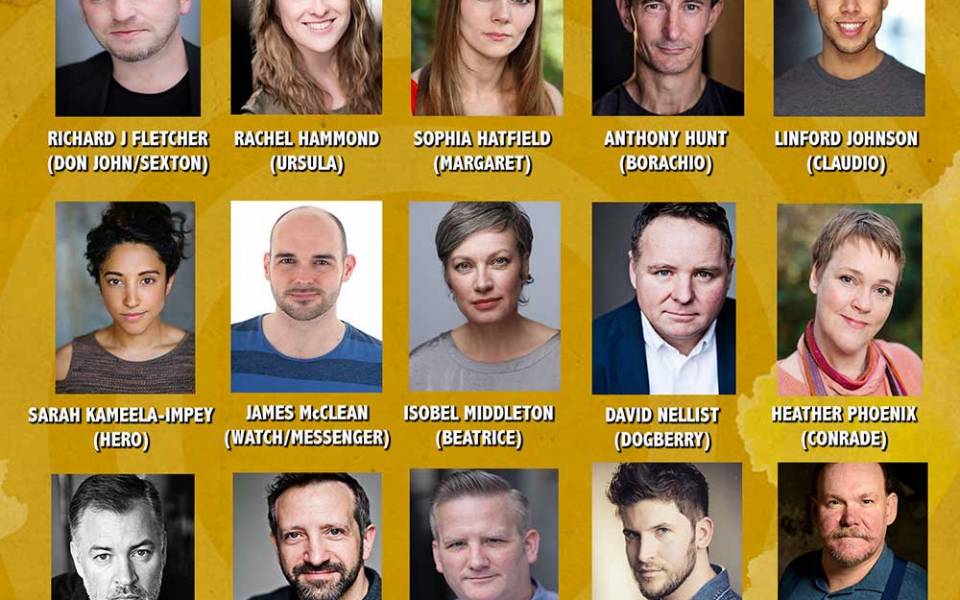 Four Greater Manchester actors to star in Shakespeare's 'Much Ado About Nothing.'
William Shakespeare's glorious tale of antagonistic romance and chaotic comedy, 'Much Ado About Nothing,' will come to The Lowry Tue 7 – Sat 11 May.
Four actors from Greater Manchester will tread The Lowry boards in 'Much Ado About Nothing.' Simeon Truby who will play Leonato lives in Swinton, Sophia Hatfield who will play Margaret is from Aston Under Lyme, Heather Phoenix who will play Conrade is from Levenshulme and Isobel Middleton who will play Beatrice is from Glossop.
Six long years of war are finally over. Returning soldiers swap the booming battlefield for a landscape of love, masked balls and much-needed laughter. Two young dreamers (Hero and Claudio) fall head over heels, while two others (Benedick and Beatrice) resume their combative courtship.
As faithful friends plot romance and a vengeful brother plans destruction, can true love conquer all, or will whispers and rumour win out? Told in true Northern Broadsides style and set at the end of World War II, this production of Shakespeare's glorious romantic comedy, was last performed by the company in 2000 and will be directed by Northern Broadsides new artistic director and joint CEO Conrad Nelson.
The full casting line up will feature; Richard J Fletcher ('Oh What A Lovely War', Oldham Coliseum) as Don John; Rachel Hammond ('Babe: The Sheep Pig') as Ursula; Sophia Hatfield ('When We Were Married,' Northern Broadsides) as Margaret; Anthony Hunt ('The Commitments,' West End and 'Hard Times,' Northern Broadsides) as Borachio; Sarah Kameela Impey ('The Tempest,' RSC and 'Pinocchio,' National Theatre) as Hero; Linford Johnson ('The Rise And Fall Of Little Voice,' Park Theatre, 'War Horse,' National Theatre and 'Showboat,' Sheffield Crucible) as Claudio; James McClean ('New Tricks,' Bolton Octagon) as Messenger; Isobel Middleton (Anna Tregorran in 'The Archers,' BBC Radio 4, 'Emmerdale' and 'Cracker,' ITV and 'Eric, Ernie' and 'EastEnders,' BBC) as Beatrice; David Nellist ('The Curious Incident of the Dog in the Night-Time' and 'War Horse,' National Theatre and Sherlock, BBC) as Dogberry; Heather Phoenix ('The Rivals,' Theatre by the Lake) as Conrade: Matt Rixon ('Hairspray,' UK Tour and 'Around The World In 80 Days,' New Vic/Royal Exchange) as Don Pedro; Robin Simpson ('Midsummer Night's Dream' and 'Macbeth,' Shakespeare's Rose Theatre) as Benedick, Simeon Truby ('The Pitman Painters,' New Vic Theatre) as Leonato; Robert Wade ('Cyrano,' Northern Broadsides) as Balthazar and Andrew Whitehead ('An August Bank Holiday Lark,' Northern Broadsides) as Antonio/Friar.
Co-producing with Staffordshire's New Vic Theatre, the production's creative team includes Lis Evans (An August Bank Holiday Lark) with lighting by Daniella Beattie, and musical direction by Rebekah Hughes. Regulars at the New Vic Theatre, this will be Northern Broadsides tenth co-production with the venue. Previous co-productions have included 'The Tempest' (2007), 'The Canterbury Tales' (2010), 'Love's Labour's Lost' (2012), the award-winning 'An August Bank Holiday Lark' (2014), 'The Merry Wives' (2016) and 'Cyrano' (2017).
Listings Information
Much Ado About Nothing
Dates: Tue 7 – Sat 11 May
Times: 7.30pm. Wed & Sat 2pm.
Tickets: £23 – £25. Concessions £2 off.