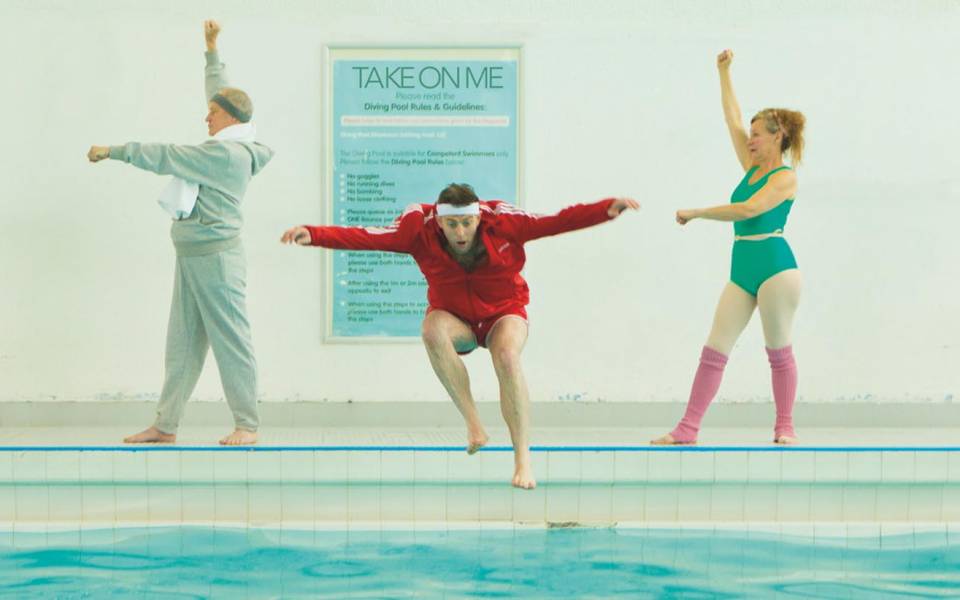 Salford leisure centre as you've never seen it used before
Dante or Die are on the road with a new staging of their 80's inspired show Take On Me, offering an intimate insight into the goings on at a local leisure centre. This unique production will tour to Broughton Leisure Centre, Salford from Fri 15 – Sun 17 February 2019.
Beauty and loneliness collide in Andrew Muir's dazzling and often surreal play, seen through the lens of an everyday fitness and leisure centre. Set in the 1980s world of headbands and leg warmers, it follows a lonely woman at the gym for the first time and a lifeguard who has never saved anyone.
At once brilliantly comic, touching and true, Take On Me is a revealing dissection of the anxieties and concerns which underpin each one of us, as we strive for better versions of ourselves.
Live musicians belt out classic 80's hits including 'I Wanna Dance with Somebody' and 'Flashdance', and lead the audience through the changing rooms, gym, an aerobics class and finally the pool. The audience become a fly on the wall for one extraordinary day in these people's lives.
The cast includes Fiona Watson as Lisa and Eleanor Isherwood, George Hicks and Sophie Gunn are the Musicians.
Each performance will have integrated BSL communication by Dante or Die's Access Associate, Sophie Gunn.
Take On Me is the winner of Arts Partnership Surrey & Farnham Maltings' 'Not for the Likes of Me' commission and was seed funded by Harlow Playhouse. It is funded by Big Lottery Fund, Garfield Weston Foundation and the Arts Council England's Strategic Touring Fund, which champions new ways of reaching people who don't regularly engage with the arts.
The production is presented in partnership with Lighthouse, Creative Arts East, Ideas Test, The Lowry, Ealing Council and South Street. It was first performed in a mini tour across leisure centres in Surrey in 2016.