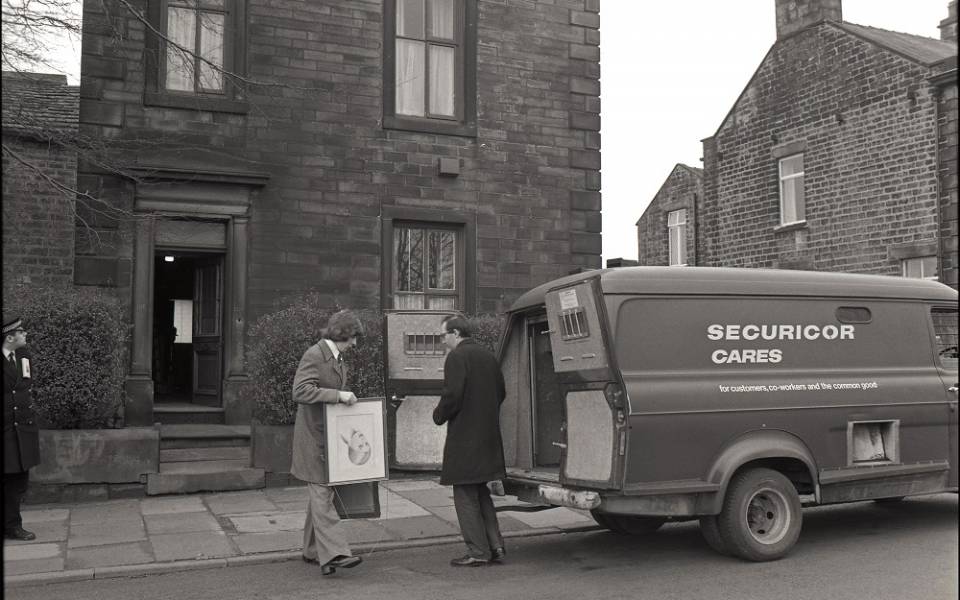 The moment Securicor removed art masterpieces from the home of LS Lowry in 1976
When LS Lowry died in 1976, the task of clearing his house of his considerable art collection was nothing short of epic.
Lowry avoided receiving unannounced visitors to his home and few outside a close-knit circle of friends knew the extent to which his, otherwise very simple, home interiors were dominated by work of his favourite artists, the Pre-Raphaelites.
His executor was faced with securing not just hundreds of paintings and drawings by Lowry himself but also works by icons of the Pre-Raphaelite movement, including Dante Gabriel Rossetti, Ford Madox Brown and Edward Burne-Jones.
In one photograph, Securicor staff can be seen loading Proserpine by Dante Gabriel Rossetti into the back of their van. In another image, a work by Lowry entitled Ann 1956 thought to have been inspired by his love of the Pre-Raphaelites, is loaded upside down into the same vehicle.
The images were captured by the photographer, Denis Thorpe, outside 'The Elms', Lowry's home in Mottram-in-Longdendale, Tameside shortly after his death.
They form part of a new exhibition called Lowry & The Pre-Raphaelites which opens at The Lowry in Salford on Saturday 10 November 2018.
It celebrate LS Lowry's love of 19th century artist movement and examines how it influenced some of his own, iconic portraits. The exhibition is sponsored by Sotheby's and runs until Sunday 24 February 2019.
In July 2014, The Lowry galleries were reamed The Andrew and Zoe Law Galleries in recognition of the couple's £1m donation to the arts centre, which is a registered charity.