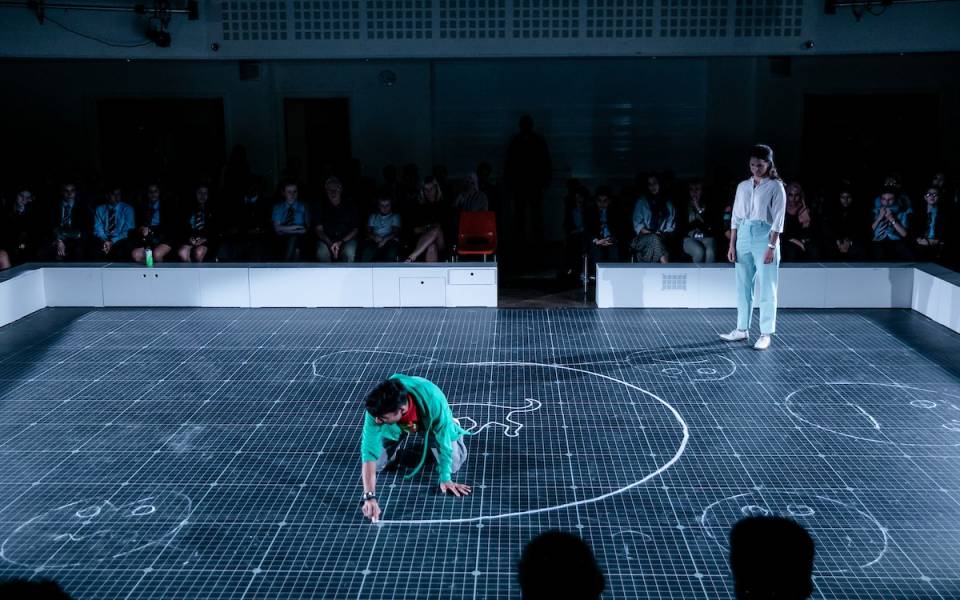 Specially staged version of West End smash hit to tour 17 schools in Rochdale, Salford & Wigan
A specially staged version of the National Theatre's award-winning play, The Curious Incident of the Dog in the Night-Time will visit 17 secondary schools in Greater Manchester next month.
The tour forms part of the National Theatre's drive to introduce new audiences to theatre and The Lowry's work to develop local engagement in the arts.
The tour will visit the following local schools in November and December 2018:
• Harrop Fold School, Salford
• All Hallows High School, Salford
• Oasis Academy, Salford
• St Ambrose Barlow High School, Salford
• Moorside High School, Salford
• Lowton Church of England High School, Wigan
• Turton High School, Wigan
• Bedford High School, Wigan
• St Mary's High School, Wigan
• St Edmund Arrowsmith Catholic High School, Wigan
• Fred Longworth High School, Wigan
• St Anne's High School, Stockport
• Cardinal Newman College, Wigan
• Kingsway Park High School, Rochdale
• St Anne's Academy, Rochdale
• Hawkley Hall High School, Wigan
• Hollingworth Academy, Rochdale
The schools tour is a 90-minute version of the play performed in the round and will be followed by a Q&A session for students with the company.
The performance is accompanied by a learning programme which includes professional development for teachers led by the National Theatre and the show's movement directors, Frantic Assembly as well as curriculum-based resources and workshops.
The Lowry is collaborating with the National Theatre to develop local audiences and engagement in theatre and reach new audiences in Greater Manchester. They have worked closely with them on identifying local schools to take part in the programme, host training sessions for teachers and provide logistical support.
The collaboration is part of a three-year project, Theatre Nation Partnerships, focusing on six areas around the country.
The schools tour will visit five schools per week from September 2018 and will also visit Doncaster, London, Outer East London, Sunderland, Wakefield and Wolverhampton.
The Curious Incident of the Dog in the Night-Time brings Mark Haddon's best-selling novel to life on stage, adapted by two-time Olivier Award-winning playwright Simon Stephens and directed by Olivier and Tony Award® winning director Marianne Elliott.
The novel has won more than 17 literary awards and is widely studied in schools. Simon Stephens' adaptation is a set text for GCSE English Literature.
The play tells the story of Christopher John Francis Boone, who is fifteen years old. He stands besides Mrs Shears' dead dog, Wellington, who has been speared with a garden fork, it is seven minutes after midnight and Christopher is under suspicion. He records each fact in a book he is writing to solve the mystery of who killed Wellington. He has an extraordinary brain, and is exceptional at maths while ill-equipped to interpret everyday life. He has never ventured alone beyond the end of his road, he detests being touched and distrusts strangers. But his detective work, forbidden by his father, takes him on a frightening journey that upturns his world.
Speaking about the schools tour Simon Stephens said: "It means the world to me that Curious Incident will be touring schools around the country. I worked as a schoolteacher teaching kids in Dagenham in Essex 20 years ago. I loved it. I still think of myself as a teacher. I have seen firsthand how inspiring drama is to young people in schools. I believe the arts to be fundamental to our society. We can't afford to lose them from our education system. I am delighted that our play will play its part in introducing young people to the theatre. I always hoped that Curious Incident was a play that could be performed anywhere, by anyone. The play is designed to provoke and inspire imagination and interpretation in its staging and inspiration in its audience. The tour will, I hope, provide the same kind of imagination and inspiration throughout the country."
Luke Tennant, teacher at All Hallows RC High School said, "This is an amazing opportunity for our pupils to be inspired by theatre. Many of them haven't been to the theatre and to see a show at this level of technical and artistic brilliance will open their minds. It is a privilege to be able to host this and a fantastic gift for the children and young people of Salford to see it."
The cast includes Shiv Jalota, Kathryn McGarr, Nick Pearse, Chereen Buckley, Caroline Parker, Matt Wilman, Suni La and Kieran Garland.
The schools tour is supported by: The Mohn Westlake Foundation, The Garfield Weston Foundation, The Ingram Trust, Archie Sherman Charitable Trust, Behrens Foundation, Cleopatra Trust, Jill and David Leuw, Mulberry Trust and The Royal Victoria Hall Foundation.