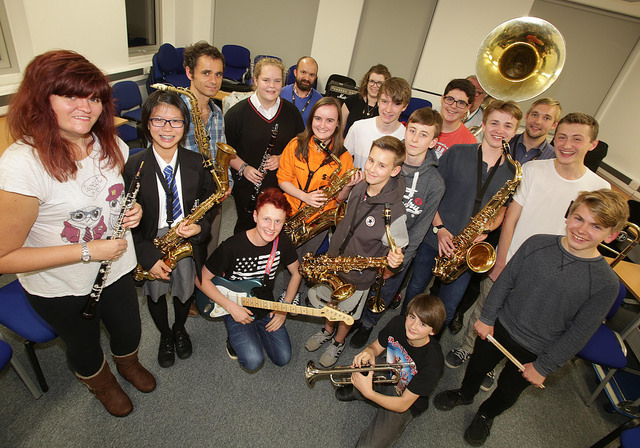 Salford Brass Band To Join Circus Company On Stage At The Lowry Theatre
Salford's MAPAS brass band will join French circus company, Circa Tsuica, on stage at The Lowry next month (Tue 1 & Wed 2 November 2016) in Opus 7 – a feel-good blend of daredevil acrobatics and brass rhythms.
The band's 14 musicians are working with Circa Tsuica's music director Camille Secheppet to learn the show's repertoire of Balkan brass and American jazz – and add their own Salford sound into the mix.
They will also learn Circa Tsuica's technique of 'sound painting' so they can move as they play – though the serious acrobatics will be left to the professionals.
The resulting show is an hour of non-stop brass beats, risk-taking circus tricks and quirky humour where the performers never drop a note and the audience gets to join in the party.
MAPAS band leader, Richard Milton said: "MAPAS is all about offering local people performing arts opportunities and this project is a prime example. The band has had chance to learn something new from the inspiring team at Circa Tuisca and get to perform on The Lowry stage to a home crowd."
Opus 7 is part of Circus Evolution, a strategic touring initiative created to ensure that more high-quality contemporary circus work reaches a wider range of people across England and Wales – including those living near The Lowry.
Rachel Clare, who leads the project, said: "Opus 7 offers humour and spectacle, acrobatic and musical skill. Perhaps most exciting of all, it also gives local musicians to work with French artists to inspire their musicianship and perform with them at some of the most prominent regional venues in the country."
Notes to editors
Circa Tsuica is part of the Cheptel Ale?koum collective, around 20 circus artists who live, work and train together in the remote French village of St-Agil and tour the world with their feel-good shows. Most of the collective met as students at the Centre National des Arts du Cirque (CNAC) and on graduation moved to an old farmhouse where they set up a circus tent in a field. Ten years later, they have spread out around the village, where a fifth of the 250 inhabitants now have some circus connection.